How The Story Goes
If anyone had ever told me that two hours after receiving the positive pregnancy test I'd been dreaming of that I'd be hiking through Welsh hills trying to not step in sheep shit, I'd throw my script at them and shout: This is not in the Hollywood scripts! This does not happen this way! Queue the violins! There should be snuggles and lots of patting of my stomach from the man while I swan about in my pink chiffon robe WITH the feather trim!
Instead, I hiked around Welsh hills in shoes that got wet, and whose wet purple inner lining came off on my feet so that I now look like I am facing a pretty severe case of frostbite (I saw people looking at my indigo stained toes later in the day yesterday as I walked around in my flip-flops. I wanted to look at them and say: Dude, Everest? Not such a cake walk after all.)
But there you have it.
The night before I was really stressed. I still had strange symptoms-nausea, vomiting, headaches, light-headedness, and the unfortunate gift of an uber-sense of smell (not something you want in an environment that includes farms and sea-soaked dog riding in the car). I felt cramps inside and was convinced my period was coming.
Tuesday night I fell asleep around midnight.
And all night long, I dreamt about testing and it coming out positive. Every single time I woke up, having just dreamt about a positive pregnancy test, I'd go back to sleep and start a new dream which would inevitably wind up with me urinating all over a home pregnancy test all over again, and celebrating the positive.
When I woke at 6 am, I sat up and thought: Right. I'm going to go take my positive home pregnancy test now.
So I went to the toilet and got out the tests-one was the Super Sensitive Home Pregnancy Test, one a First Response Early Detection. I peed in the little cup for the Sensitive One, then dropped three drops into the indicated area (as noted by the "splash guard" marks. Nice.) I also took down the First Response one.
The control lines came up quickly-blue control one on the Sensitive one, a bright pink control line on the First Response test.
As did the pregnancy lines-bright pink on Sensitive and a paler pink on First Response.
I burst into tears and stumbled from the bathroom into our bedroom. Gasping and crying, I woke up Aidan and told him the news. I brought him the tests. He confirmed that there were most definitely lines on both tests.
We went back to sleep for about an hour, then it was time to walk the dog, have breakfast, and pack up and head home from the Welsh holiday.
And I still can't believe it, but somehow it's real. Dr. Seuss baby took. And dear Jesus, please let it be just Dr. Seuss baby and not Dr. Seuss babies. Aidan is really nervous they both took as twins are his big fear. I don't want twins either, but am less concerned about it than Aidan-somehow, I am really calm and relatively sure that it's just the one in there.
I don't know why I think that.
But I don't know why I just thought the test would be positive, either.
I don't get to have my first scan for nearly three weeks, which feels like fucking forever to me. When we do get to go, there should be both a fetal sac and a heartbeat. I'm not worried about an ectopic pregnancy as I have no tubes. And somehow I'm not that worried that it's a chemical pregnancy as I had all the classic symptoms of implantation.
I'm just kinda' calm right now.
I feel like I'm lucid dreaming-my IVF cycle has worked and I both can and cannot believe it.
But lots of things can go wrong, and I am still facing the miscarriage statistics, which are something like 10-20%. Those stats are enough to keep me quiet and concerned. We will tell people about this if/when we get to the second trimester, so if you do come to my other blog please, please don't mention this on there-people in my "real life" see that blog and apparently read the comments, and I just don't want to tell them about this right now.
In the meantime, I take stock in the fact that I'm up the duff.
Because I am.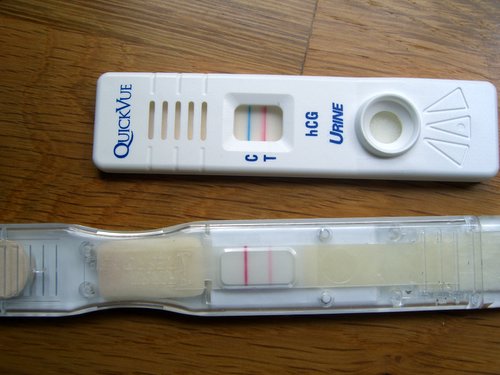 Hi.
I'm pregnant.
Posted by Vanessa at August 17, 2006 06:12 AM | TrackBack